Nevada Caregivers Coalition: A Look Back in Time
When Diane Ross founded the Nevada Caregivers Coalition in 2003, she had already spent years as one of Nevada's foremost advocates for caregivers. She understood an organization supporting caregivers was important for caregivers themselves and for the community to recognize their contributions, honor their commitment and advocate for their welfare. But she couldn't do it alone, and it has taken many dedicated coalition members to keep the organization vital, including members who have been active for years.
Diane's passion to care for others was a calling. Educated as a speech therapist and an experienced family caregiver, Diane founded The Continuum, a rehabilitation therapies and wellness center for people of all ages in Reno, Nev., in 1993.
A decade later she was facilitating a caregiver support group and participating in caregiver health fairs when the opportunity to create an organization to support caregivers presented itself. Former Director of the Sanford Center for Aging at the University of Nevada, Reno, Larry Weiss gathered a group of 15 to 20 people from across the community to talk about caregiving and to pose a challenge to anyone interested. The Sanford Center would provide $10,000 to the organization that could match the funds and develop programs for caregivers. Diane took him up on it, raised the money and the Nevada Caregivers Coalition was born. To this day she remains the heart and soul of the organization although she stepped down as president several years ago.
The coalition is a group of organizations, businesses, agencies and individuals that in some way touch caregivers. They come together once a month to network, share information about caregiving programs and services, trade ideas, and support the organization's objectives and projects.
According to Diane the coalition's original caregiving mission was three-fold. First was to recognize and salute the work of what she calls "our silent heroes." "I always knew they never got the recognition they needed or deserved," said Diane. "That's why we developed a luncheon to honor them every November during National Family Caregivers Month."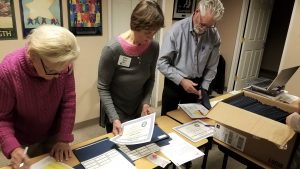 Secondly, the coalition initially focused on caregiver health fairs and training classes, but those services were being provided by other organizations so there was no need to duplicate. However, during the pandemic the Coalition created a lively, one-hour monthly forum on Zoom, Conversations with Caregivers, to provide helpful information for caregivers and anyone interested in caregiving.
The third objective was to reach out to the business community to increase awareness of caregivers, the value of caregiving and the needs of their caregiver employees.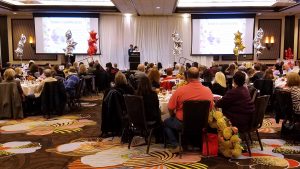 The recognition luncheons and virtual activities have been tremendous in honoring and expanding
awareness of the incredible work caregivers do. Held in 2005, the first luncheon honored 25 caregivers. As community support expanded, more caregivers were recognized with nearly 300 people honoring 90 caregivers at the 2019 luncheon.
Because of the challenges of Covid-19, the 2020 event was virtual. This shift proved to be an important move for the Coalition. For the first time it meant caregivers from throughout Nevada could be honored. The 2021 recognition event will also be a virtual statewide celebration.